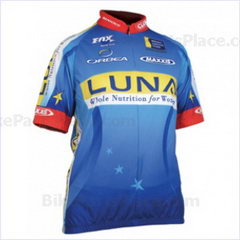 Okay, so you've planned on getting fit this year…and bought yourself a bike. That's great news, but getting yourself a shiny new bike is only the start. You need to have the right bike clothing to go along with those other essential accessories such as helmet, sports sunglasses and shoes. There is an extensive range of men's bike clothing available to suit all types of riding and budgets. So, whether you are looking for mountain biking clothing or road bike clothing, you have a wide choice of comfortable and durable clothing to choose from.

Now, first of all, for safety reasons, when you buy your bike, you should also buy yourself a helmet. In many places, wearing a helmet is now compulsory whenever you're out there riding your bike on the road.
When choosing a helmet, make sure that it fits you properly, it should feel firm against your head, yet still feel comfortable to wear. If it's too loose, it won't protect your head properly. Also make sure that your helmet complies with all relevant safety standards.
Next up, you will want to buy yourself a cycling shirt. These are available in your favorite cycling team's colors. A good cycling shirt will not only look great on you, they are designed specifically for riding. These cycling shirts are made from high tech synthetic fibers, that keep you feeling comfortable on your bike. A tight fitting shirt with a zipper down the front will provide extra ventilation and keep you feeling cool and comfortable if you are planning on doing some hard riding. If your pace will be a little more leisurely, then a looser polo style cycling shirt may suit you better. Remember too that men's mountain biking clothing and road biking clothing may need to be different so make sure you buy the shirt that suits your particular riding.
You'll also need the right cycling pants. Wearing your usual casual shorts or long pants will not be comfortable, you need pants designed specifically for riding. Bicycle shorts are available in a range of styles for different riding, but all will include one feature – padding for your backside. If you're a casual rider, then a casual pair of loose fitting bicycle pants will be suitable. If you plan on more serious riding, then you may need a pair of tighter fitting, more aerodynamic shorts. For mountain bike riders, you'll need a combination of both. That is, tight underneath with a tough, looser fitting outer layer to protect you from abrasions and scrapes.
Now for your shoes. Cycling shoes are very important. Firstly, proper cycling shoes are designed to fit into your pedals and hold your feet in there so they do not slip. This gives more power in your pedaling and the security of knowing that your feet are not going to slip off the pedals (which could prove to be very painful). Cycling shoes also have a hard sole that fits your arch and prevents aching feet, even after hours of riding. Road and recreational cyclists will prefer lightweight shoes that fit to just below the ankle. For mountain biking however, you will need a pair of cycling shoes that provide added support and have a thicker tread on the bottom for added grip when you have to get off your bike out on the trails.
Tags: mens bike clothing, mountain biking clothing, road bike clothing