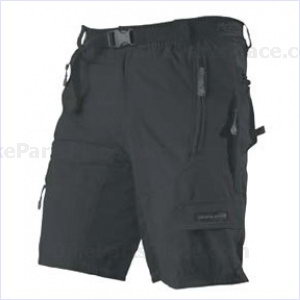 Are you after a cool looking pair of fashionable cycling pants that will also feel comfortable to wear when you're riding hard in the saddle? Perhaps you should check out the range of Hummvee bicycling shorts from cycling fashion house Endura. The nylon Hummvee bike shorts have plenty of useful pockets, detachable leg warmers and a handy separate inner lining.

Humvee bicycling shorts from Endura are made from durable Teflon treated nylon fabric and are available in a fashionable range of cool colors, and they look just great. In fact, you don't even need to be riding on your bike to wear them…and look good. Also, these shorts would be great for camping. They are available in all sizes from XS to XXL, so you can be sure that there will be a pair of Hummvee bicycling shorts to fit you really well.
Many cyclists who wear these shorts consider them very comfortable shorts and appreciate the amount of good-sized pockets they have for all those bits and pieces you need to take with you on a long ride. They include two rear tabbed large map pockets so you won't get lost, two front zipped pockets for your wallet, purse or keys, a cargo pocket, and even a zip up mobile pocket.
Other useful features of the Hummvee bike shorts from Endura that make them just perfect for cyclists include an adjustable belted waist, side zipped ventilation for when you are getting hot and sweaty, a stretch lower back panel and seamless stretch inner leg panel for added comfort, interchangeable short leg adjustment via a velcro strap, as well as extended ankle length zips with velcro ankle cinches.
Another key feature that makes these fashionable shorts perfect for cyclists is that they also have a separate inner liner, which means you can wear your Hummvee shorts with a fresh inner liner while you wash your other dirty and sweaty inner liner or throw it in your dirty clothes bag if you're out hitting the trails for a few days or away camping for the weekend. This way, you can make sure you stay dry and comfortable, even if things get a little wet. You can also order extra inner liners whenever you need them.
While most cyclists who own a pair of these shorts regard them as good quality bicycle shorts, there has, however, been some criticism that the quality could be improved somewhat. However, for the price, compared with other similar cycle shorts, they represent great value for your hard earned money. And not too many people complain about that!
These fashionable pants from Endura not only look the part for any self-respecting cyclist, but as you can see from the added features of these shorts, they are also extremely practical especially for weekends away on the bike. Compared with other similar, but more expensive, bicycle shorts, they represent great value for the price, so they are well worth a look the next time you are shopping for a pair of cycling pants.