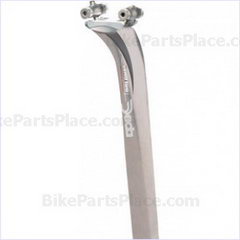 Your bike seatpost is an important component of your bike, and is one component you need to spend some thought on, as well as money, when it comes to choosing the right seatpost for your bike. So, why is the seatpost important? Well, a good seatpost will be strong and light and will allow you to adjust your seat to your precise riding position, especially important if you want to get the most out of your bike. There are a number of high quality seatposts on the market, and amongst the best, are Deda seatposts and seatpost parts.

Deda make a range of super lightweight and strong seatposts constructed from both aluminium and carbon fiber. Deda has a great reputation among many professional cyclists and some leading riders use Deda components, including legendary Lance Armstrong.
Deda's super lightweight alloy bike seatposts include the Ultra, Zero 100 and Zero 100 White. Their carbon fiber bike seatposts include the Black Stick, MAGICSTICK, Super Zero and super Zero White.
The Deda Ultra alloy lightweight seatpost is a high technology seatpost manufactured from alloy with a carbon fiber wrap. This Deda seatpost features a an exclusive patented nut retention system that makes assembling your bike's seat a simple process.
The Deda Ultra seatpost has a setback of 22 millimeters and a diameter of 27,2 – 31,6 millimeters. The length of the seatpost is 340 millimeters (12.5 inches) and weighs just 260 grams (or 6 7/8 oz.).
If you are looking for a true light weight alloy seatpost, then Deda has the Zero 100. This Deda seatpost is built with the professional bike rider in mind. The Deda Zero 100 is constructed from deep forged high quality alloy and features two bolt micro adjustment so you can be sure that you will be sitting in the optimal riding position.
The Zero 100 has a setback of 25 millimeters and a diameter of 27,2-31,6 millimeters and is a total of 310 millimeters long. It weighs around 207 grams and is available in classic matte black or dark metal polish.
The brother to the Zero 100 is the Zero 100 White from Deda. This bike seatpost, like the Zero 100, is a professional seatpost constructed from deep 3D forged high quality alloy with two bolt micro adjustment giving you that perfect fit.
The Zero 100 White has a setback of 25 millimeters and a diameter of 27,2-31,6 millimeters and is a total of 310 millimeters long. It weighs around 207 grams. Like the name suggests, this Deda seatpost is available in white only.
So, whether you are looking for carbon fiber or alloy seatpost, Deda make a range of high quality seatposts that are lightweight, strong and can be adjusted to a micro level to give you the right fit for maximum riding efficiency. Before buying any old seatpost for your pride and joy, make sure you first check out the Deda range of professional standard bike seatposts.
Tags: Bike Seatposts, deda seatpost