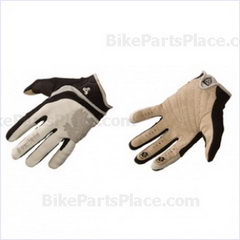 Bike gloves are an important accessory for most riders and can be just as important as biking shirts, bike riding boots. But why wear gloves when you're on your bike and which gloves will fit you best and suit your needs. Here we look at why gloves are important and the different types of biking gloves available.

Firstly, if you're riding in cool or cold weather, then wearing a good pair of biking gloves will be essential. In cold weather, gloves will help keep your hands warm and keep you safe. Have you ever tried riding in really cold weather without gloves? Your hands are exposed holding the handlebars and they will quickly freeze up. All you want to do is take your hands off the handlebars and stick them in your nice warm pockets. Mot the safest way to ride!
Okay, so you know you should wear cycling gloves in cold weather, but they are also necessary when riding BMX or mountain biking. Gloves will protect your hands from injury, and because the gloves are padded, they will reduce the shock from all those hard knocks.
So what type of biking gloves should you choose? Well, this all depends on your riding and your needs. Let's take a look at the different gloves available.
Fingerless gloves
Firstly, we'll take a look at fingerless gloves. These can also be known as track mitts, and the name suggests are used mainly for riding around the indoor bike track or road riding. Fingerless bike gloves usually have light padding in the palm of the gloves. This padding is normally leather padding or a gel implant in the glove. The advantage of fingerless gloves is that they offer a greater degree of flexibility for light braking and constant gear changes and are usually preferred by cyclists riding drop-bar, or touring bicycles.
Gore-Tex weatherproof gloves
If you often ride in wet or windy weather, then gloves that are windproof and waterproof will suit your needs best. They are usually best for riding during Autumn or Spring as they are generally not warm enough for Winter riding. These gloves are available in Gore-Tex and in heavy rain may become soggy, but they will be fine for light riding in light rain or showers. One drawback with these gloves is that they may become slippery so it may be best to treat the palms so that you do not lose grip.
Winter riding gloves
If it's going to be cold when you're riding, then you'll want a pair of winter gloves or even mittens if you're riding in extreme cold weather.
Winter gloves usually have long cuffs that you can tuck right into your jacket and they will have separate inner and outer sections. The outer layer being waterproof, and the inner layer providing insulation. This inner layer can usually also be taken out for washing. Mittens will allow your fingers to all fight the cold together by generating more heat that will circle around the fingers in an air pocket.
Make sure they fit
When you buy a pair of biking gloves, make sure they fit properly. You wouldn't buy a biking shirt or bike riding boots that don't fit, and you shouldn't buy gloves that don't fit either. Make sure they are not too tight, as this will restrict blood flow and hamper flexibility I your fingers. They shouldn't be too loose either as they can slip off and will also hamper your control over your bike. There are a wide range of sizes and shapes available, so make yousre you get ones that fit just right.
Tags: bike cycling gloves, biking gloves