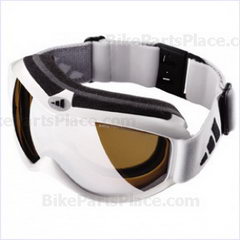 Whether you're riding your bike or doing anything else, your eyes are an asset that you just can't afford to lose, so you need to look after them. Bike riding sunglasses are essential for protecting your eyes whenever you are out there on your bike. But, it's not just a matter of protecting your eyes, you want to look good as well in your mountain or road bike sunglasses.

Your eyes are always prone to damage, and even more so when you're riding your bike. Sunlight in your eyes, dry wind, wet weather and bugs and insects, and dirt and grit all pose a hazard. By wearing a pair of quality bike sunglasses, you can avoid the risk of damage caused by the elements.
While your biking sunglasses should provide vital protection for your eyes, you also want them to look good. There are many great looking sunglasses available that will have you looking cool on your bike. Here we look at what two of the biggest names have to offer – Oakley and Adidas.
The Oakley Radar Sunglass range
Oakley has long had a reputation for making practical, yet great looking biking sunglasses. The Oakley Radar range is no exception. The Oakley Radar range of bike sunglasses feature interchangeable lenses, that you can change for optimal vision and clarity in any type of weather or in any environment. They also boast a special lens coating that repels water, oil, sweat and any other debris that may get in your way when you're riding. The flexible and durable frames creates a cooling airflow and have an interchangeable nose-piece so you can get that perfect comfortable fit. They come in a range of great colors for both frames and lenses.
The Oakley Flak Jacket Sunglass range
Oakley's Flak Jacket range includes a permanent lens coating to prevent rain and sweat from building on your lenses. You can quickly change the lenses so that you can always have the right lens for whatever conditions you are riding in.
You'll always have that perfect fit with interchangeable nose-pieces, and you get two sizes with pair. And with Oakley's special three-point fit, your Flak Jacket sunglasses will always fit you just right. Made from special light weight material that actually increases grip with perspiration, you can wear them all day long without even realizing they are on your head.
The lenses of the Oakley Flak Jacket range will filter out all UV light and provide crystal clear, razor sharp vision.
The Adidas Evil Eye Pro Sunglass range
No matter where you find yourself riding, the Adidas Evil Eye range make great mountain bike sunglasses and road sunglasses. They offer exceptional vision and they will fit you comfortably while still looking great. They are light weight and flexible and are available in two different sizes.
Oakley and Adidas are just two of the major brands offering cool looking protection for your eyes. So there should be no excuse for not looking after your most valuable asset when you are out on your bike.
Tags: bike riding sunglasses, bike sunglasses, biking sunglasses, road bike sunglasses