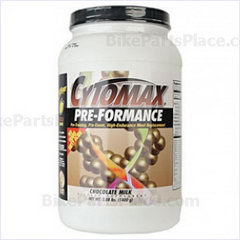 Like any other athlete, when cyclists are riding hard in the saddle all day long, it's important to keep hydrated and to keep your carbohydrate levels up. If you're out for a leisurely ride and a bit of relaxing sightseeing, then you can get away with a bottle of water, but if your riding involves pushing your body to its limits, then water alone will not be enough. You need to keep up your fluids by drinking a performance drink. And one of the best performance drinks out on the market today is the specialty range of CytoSport bike drinks.

When it comes to making performance drinks designed to keep you at your peak performance all day long, then you can't go past CytoSport's range of performance drinks including their pre formance range. Developed by father and son team Greg and Mike Pickett, CytoSport provides the highest quality in nutritional products made especially for professional athletes.
Cytomax Performance Plus Ready-To-Drink
If you're looking to train much harder, build your stamina levels and achieve even greater results from your cycling, then you should try out CytoSport's Cytomax Performance Drink. This performance drink is developed from a blend of complex carbohydrates but has little sugar. In fact, this drink has around 80 per cent less sugar than most leading brands of sport drinks. The blend used in the Cytomax Performance Drink is specifically formulated to sustain your energy levels over longer periods, meaning you can train harder and for longer.
Alpha-L-Polylactate
The Alpha-L-Polylactate is a patented source of energy and is exclusive to CytoSport. It has been developed to keep your energy levels up for longer periods. It works to lower the acid content in your muscles so you won't cramp or get muscle burn and it will also help to speed up your recovery if you get an injury while riding your bike.
The Alpha-L-Polylactate is available in seven different formulas including citrus for endurance, orange and tangerine for that herbal lift, pomegranite berry for extra focus, tropical fruit for that Vitamin C hit, Dragon fruit for joint support, Acai berry for extra antioxidants, and Goji berry which helps relieve stress.
Cytomax Protein Ready-To-Drink
The Protein Pure Performance Drink from Cytomax contains 40 grams of ultra-pure, whey which has been put through a micro filter for extra smoothness and also removes fat, lactose and any other impurities. This is protein in nature's most pure form.
This performance drink is just great for muscle recovery and is a convenient and easy-to-drink source of lactose-free whey. It's also a great source for a protein hit during the day, and just doesn't have to be a bike drink.
Fast Twitch Ready-To-Drink Pre formance drink
If you're looking for a pre formance drink, then you can't go past the Fast Twitch Ready-To-Drink from CytoSport.
This CytoSport pre formance workout drink is specifically formulated to give you a sustainable burst of energy throughout your whole training session. It will give your muscle the fuel they need to let you get the most out of your training session. Yu can drink this both before and during your workouts and not only will it give you the added stamina you need to make the most of your workouts, it will speed up your body's recovery as well.