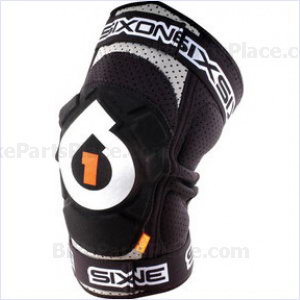 If you've ever come off your mountain bike or BMX, then you'll understand the importance of having the right protection. SixSixOne make a range of protective bike clothing and accessories including helmets, body armor, shin guards, knee guards and elbow guards as well as shoes, socks and apparel. Here we look at SixSixOne's range of high impact and super strong knee guards.

Evo Knee
The Evo Knee is a lightweight pair of knee pads that use cutting edge intelligent foam technology to provide a tough guard despite the light weight of the knee guard.
The Evo Knee features a vented neoprene expansion panel that provides extra movement in the knee for more comfortable pedaling. It also has side padding to provide extra support and protection for the knee and a custom molded vented Kevlar panel in the front that protects the knee from cuts and abrasions. To keep the knee pads firmly in place while you're pedaling, the Evo Knee has an adjustable velcro strap.
EVO Lite XC Knee
This is the next step up from the Evo in the SixSixOne knee guard range. They are lightweight and flexible for unobstructed pedaling and feature a hook and loop sleeve that allows you to put your knee guards on or take them off quickly and easily without having to take off your boots. They also have upper and lower straps that make adjusting them a simple operation. Of course, the flexible and lightweight padding provides your knees with protection and the neoprene vents will let your skin breath easy.
Veggie Knee
The Veggie Knee from SixSixOne is a comfortable, flexible, multilayered neoprene knee guard that features thick multiple layers of padding of ventilated neoprene which makes them ideal for wearing under your bike clothing. They can be used on their own or with the SixSixOne Veggie Shin Guards.
Kyle Strait Knee Guard
These specialized knee guards have a slim, soft fabric covered hard shell and have been designed by SixSixOne in consultation with Red Bull Rampage Champion, Kyle Strait.
For added comfort and freedom when pedaling, the Kyle Strait Knee Guard features a slim design to easily fit under your bike pants and more leg clearance. They also have vented side padding to protect your knees against top tube and other impacts.
Tomcat Knee
This pull-on SixSixOne knee guard also has a soft fabric covered hard shell that slides easily over your knee and features super ventilated airprene for comfort. To get them on and off, they have two large hoop and loop straps the are easy to fit and keep the guard firmly in place.
Race Knee/Shin
Okay, so if you are into racing and really hardcore riding, then you'll probably want a pair of these babies. These combined knee and shin guards offer outstanding protection while giving you all the freedom and movement you need to help you win that race. They feature comfortable perforated EVA foam and include knee sock which helps keep the guard in place, and vented armor within the knee and shin guard. They are made from high impact, vented plastic and have a thick, ventilated cell incorporating foam padding.
So, before you get out on the track and get hurt, get a pair of knee guards…and don't forget to check out the SixSixOne range of bike clothing and accessories.
Tags: sixsixone knee guards